The Sacred Arrow Diffuser Bracelet includes Lava Stone beads and Hematite arrow beads, both of which can help to relieve symptoms of anxiety. Hematite is a grounding, protective stone that absorbs negative energy while also promoting balance and harmony, which makes it ideal for combating anxiety. Lava Beads are made from Natural Volcanic Basalt. 
How to use
Select. Select your favourite essential oil and put 1-2 drops to your finger or cotton swab.
Apply. Apply the essential oils to your diffuser bracelet by lightly coating 2 or more lava beads.
Diffuse. Once oil is applied to your diffuser bracelet the scent will diffuse for 6-12 hours.
The lava beads coated with oil should be turned to the inside of your wrist. Allow time for the oils to dry & absorb before wearing your bracelet. When you want to change scents simply wait for the aroma to completely fade and then apply your next selection.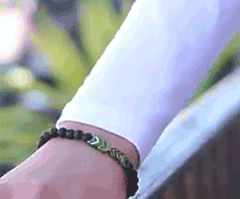 Free Worldwide Shipping
Limited Quantity: consider getting one set for yourself and one as a gift!